Welcome to another Terrorific Tuesday Blog Hop party! This week's blog hop is brought to you by my new kitten Dexter (affectionately named after this iconic TV character…it's one of William's favorite shows!) He puts the Terror in Terrorific! He is very much getting ready for Halloween. His preparation includes batting around all the Halloween decorations in the house, taste testing attempts of yummy Halloween food while sitting in my lap, and annoying the skiddish Terrorific Tuesday mascot Pixie (the black cat you see in my header). He is one frightening, but super cute kitten! OK, onto the show!
Here's all you have to do to join the blog hop fun!
– Post your projects relating to Halloween or Fall; Use the Linky Tool below and add your blog link (this is a Halloween blog hop, so please don't post unrelated projects)
– Add the Terrorific Tuesday Blog Hop button to the post on your blog (a text link is ok too):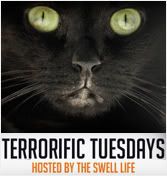 – Click the "Get Code" button below and add the code to the end of your project that you are featuring this week. This will generate more readership and linkage back to all our bloggers.
– Please comment on atleast two blog posts. Let's support other crafters and creators out there!
Until next time Swellions!
Alexa