Another week, another great set of Halloween ideas! People are so clever and creative this time of year. I think we all get a little colder and more nesting-like and want to just create, don't you? I just love the spooky mantle (above) from A We Meenit. I can't wait till I have my own mantle and can decorate like this!

How adorable is this polka dot pumpkin in an embroidery hoop from Little Lulu's nest? It's soooo sweet!

Yeah, I gotta thing for polka dots! That's why this cute polka dot printable from Oceans of Notions caught my eye!

This spooky tree by Freaking Craft is, well, uh, SPOOKY! She shares the easy, quick revamp on her blog! She made it for pennies!!

Musings from Kim K has fun potion ideas and cute ephemera decorating ideas. I just love this little Halloween party hat. She used a hat from the dollar store as her template!
Join me next week, Wednesday, October 25th all day for the last installment of the Terrorific Tuesday blog hop. I hope you'll link up and add your project. It might just get featured like these did!
If you were featured above, get your button to add to your blog here: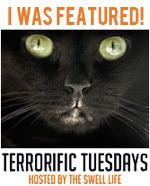 Until next time Swellions!
Alexa