It was so hard picking from all the Terrorific Tuesday entries. You guys made such awesome projects. I'm so glad you linked up to my little party and I hope you'll join me again next week for the fun!
Sew Woodsy got all "Carrie" on us and made these creepy Zombie Hand Planters (above). What an awesome concept and perfect dollar store craft!

The Dies Have It amazes me with this fall paper craft "Ghoul Garden" artwork!

I'm mad for Hillary Courson's super cute Halloween décor. I could look at Halloween stuff for days, I tell ya. DAYS!

These little argyle sweater cookies by The Enchanted Oven are about the cutest thing I have ever seen!! How perfect for Fall!

This spooky mirror art eyes by My Life in Black and White is super cool! I love the personality in the eyes!!

I'm also a sucker for a classic Halloween craft. These stiffened ghosts by Over the Big Moon are so fun! I want to do a whole ceiling of them!!!!
Join me next week, Wednesday, October 18th all day for the next installment of the Terrorific Tuesday blog hop. I hope you'll link up and add your project. It might just get featured like these did!
If you were featured above, get your button to add to your blog here: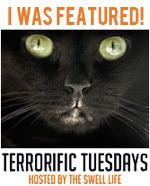 Until next time Swellions!
Alexa