Welcome to another Terrorific Tuesday Blog Hop party! Can you believe October is almost over? It makes me really, really sad since it is both my birthday month and spooky, fun Halloween month! I guess I'll just have to file all the wonderful ideas shared on Terrorific Tuesdays away for next year, huh?
For this last edition of Terrorific Tuesdays, I want to leave you with a very special Halloween bout presented to you by my kitten Dexter, and Vlad, the lovable vampire (he's so ugly he's cute).
Here's all you have to do to join the blog hop fun!
– Post your projects relating to Halloween or Fall; Use the Linky Tool below and add your blog link (this is a Halloween blog hop, so please don't post unrelated projects)
– Add the Terrorific Tuesday Blog Hop button to the post on your blog (a text link is ok too):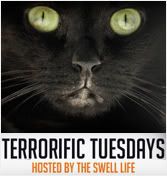 – Click the "Get Code" button below and add the code to the end of your project that you are featuring this week. This will generate more readership and linkage back to all our bloggers.
– Please comment on atleast two blog posts. Let's support other crafters and creators out there!
Until next time Swellions!
Alexa